APPO's Director of Operations and Training Lisa Kurtz invites you to follow along the journey to organize your photo life. In this installment, she creates a family timeline as a valuable tool in the process.
Milestones of Our Lives
Most of our lives can be mapped into important milestones on a timeline, even though we may not know specific dates. Preparing a family timeline aids in the sorting process as we begin to tackle our heritage photos.
Once a timeline is created, we'll use this as a road map for indexing our photos during the sorting process next week.  Trust me, you'll be glad to took the time for this step.
A family timeline is a very useful tool when organizing your photo life.
Click To Tweet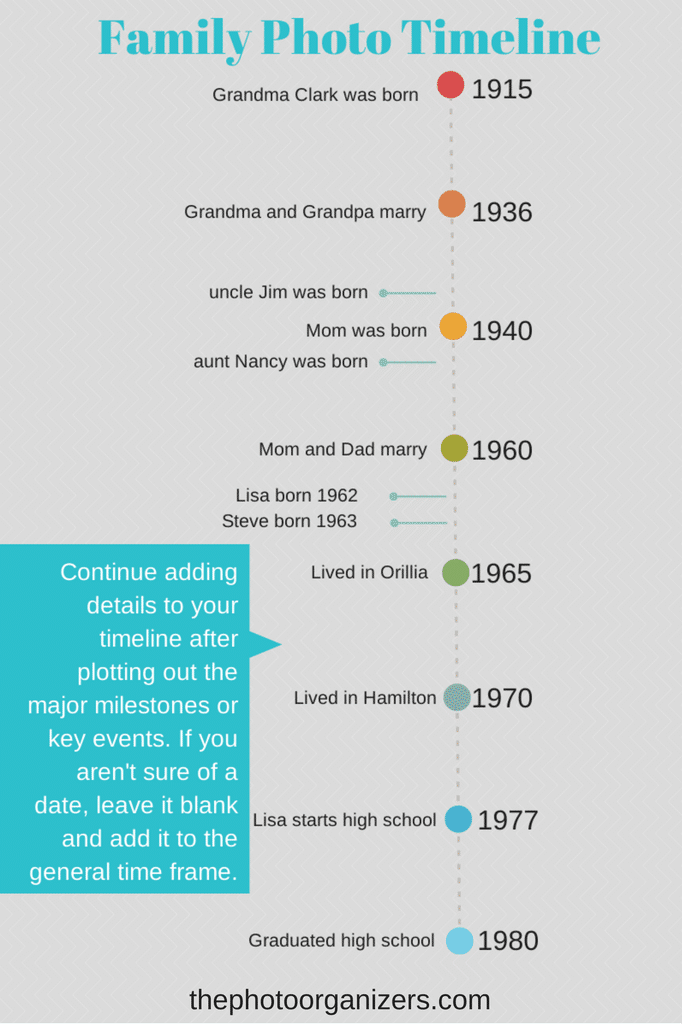 Map Your Family Timeline
As you look at the entire collection of photos that you are working with, in this case your heritage photos, determine the oldest photo and the most recent photo. This is the time span that you will plot on your map.
Looking at my family timeline, my oldest photo is my Grandma at about 5 years of age in a photo that has been marked 1920. Lucky me! But I'm not sure about my Grandma's birthday so I will use a year for this marker. And my most recent photos are my high school years and graduation.
Once you have these major markers in place, you can begin to jot other moments or milestones in between until you are satisfied with your timeline. You will refer back to this often as you start sorting, and details may change based on some of your photo discoveries. This is a good time to ask your relatives about key dates and events for accuracy!
Since many of my dates and key events are missing from my photos, I'll need to take some time to reach out to my cousin who can fill in some of the blanks. There is joy in reminiscing and we haven't chatted in a while…..
And that's just an added benefit to sorting your photos!
Are you ready to start your family timeline?
---
Follow the Organize Your Photo Life Series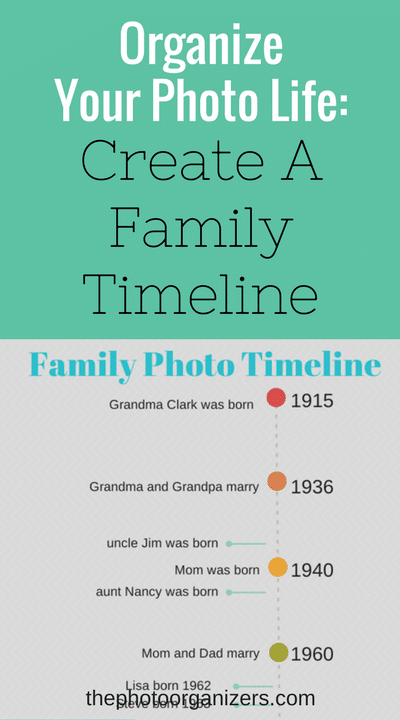 ---
---
Lisa Kurtz is the Director of Operations and Training for the Association of Personal Photo Organizers, a membership community that provides education, training and support to professional photo organizers and family archivists. Lisa is a passionate photo enthusiast who has been helping people manage their photos and tell their stories since 1996.